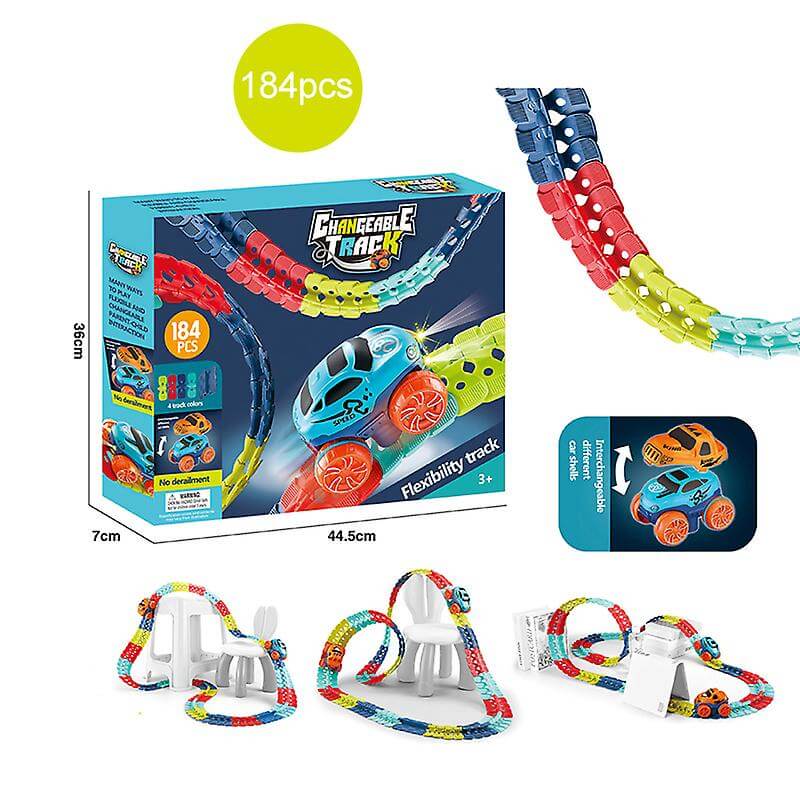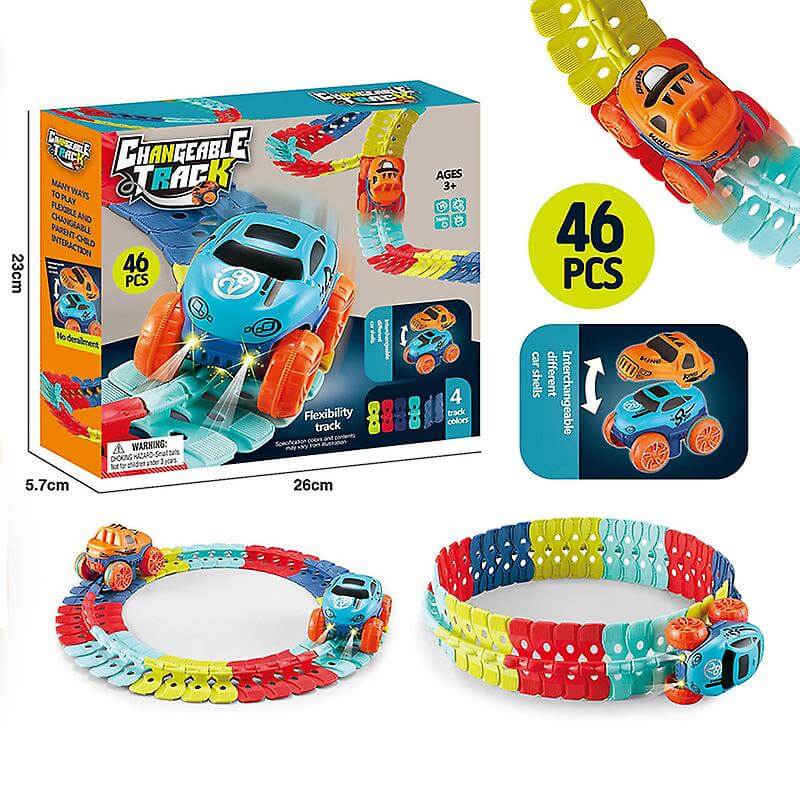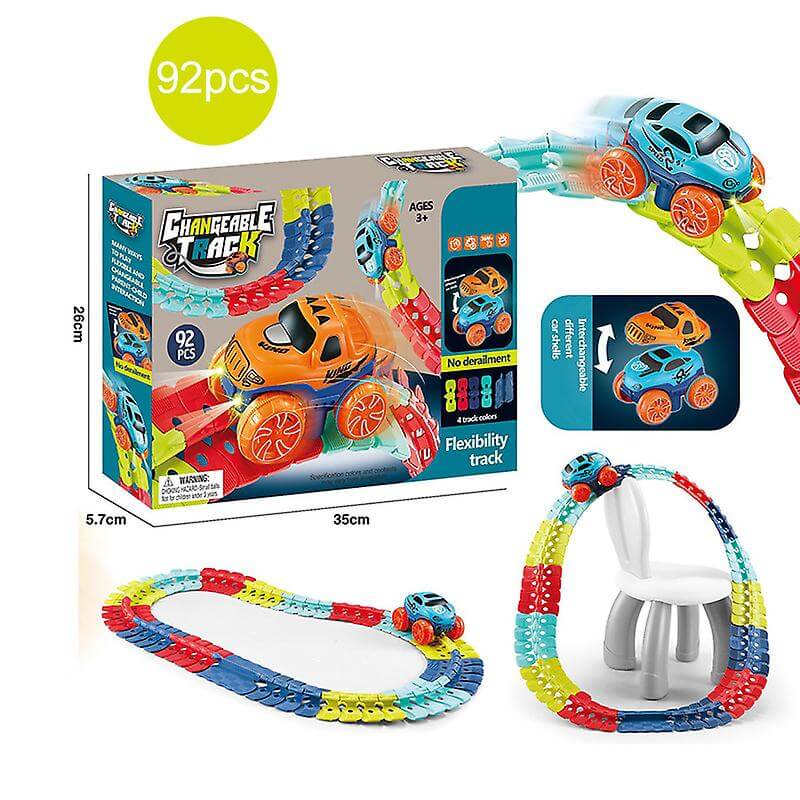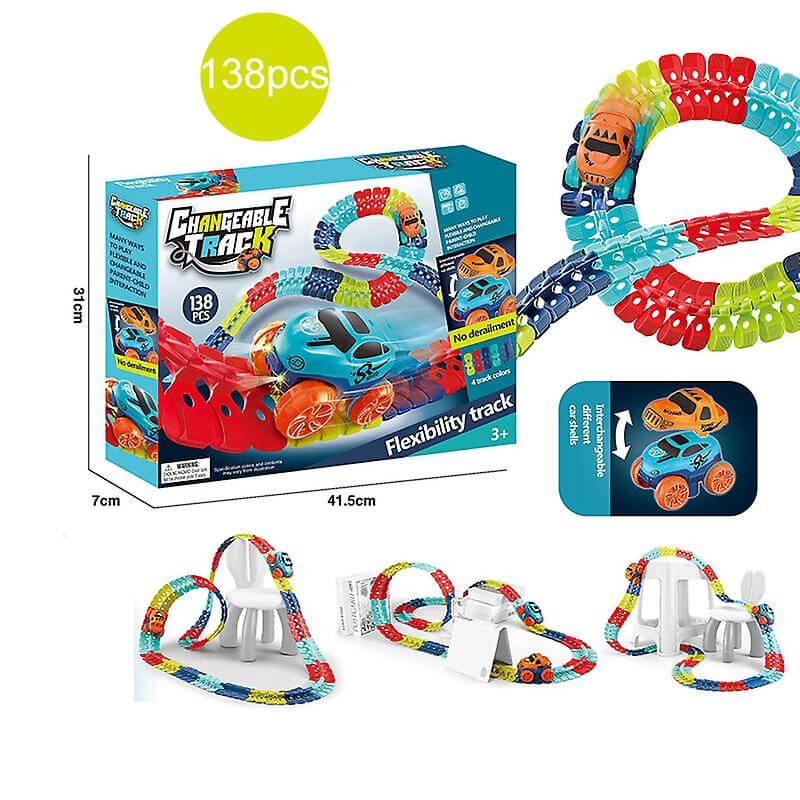 Car Adventure™ | Develop the creativity - Flexible Race Track
---
Beautiful race track that you can easily assemble the way you want! The toy car climbs everywhere!
Start building your own race track! A great way to develop your child's creativity.
With the Car Adventure™ - Flexible Race  Track you can make the most of your child's free time while stimulating imagination and creativity at the same time.
If you want to provide your child with a fun and educational experience, this is the game for him or her!
THE BENEFITS OF THE 

 
CAR ADVENTURE™ - FLEXIBLE RACE TRACK!
✓ Let the creativity run the mind
Simply click the pieces together to create your own race track. Your child makes a race track all for himself!
✓ 360 degree racing
Due to the strong construction of the car on the race track, you can let it race across the track from any angle. No loop or turn is too crazy!
✓ Durable and safe
Made from high-quality materials that last and resist fading. Provides an enjoyable playing experience. 
✓Easy to store
When they're done, roll up the track for easy storage and take it with you wherever you go. 
The Car Adventure™ - Flexible Race Track is not only fun to play with, but also contributes to the development of your child. You can use the game to help your child understand how different connections work. Hours of fun guaranteed!
The lanes are easy to connect to each other by means of a click system. Because the car is fixed to the track, you can make the most impossible race tracks, which ensures that your child is not inhibited in creativity. The race track design allows children to create endless roads and be inspired by their own creativity and imagination! 
Unlike other racing toys, the flexible race track is a unique toy that your child should not miss!
EVEN MORE BENEFITS!
✓ Very convenient
✓ Light in weight
✓ Environmentally Friendly
✓ 100% fun 

HOW TO USE
Step 1
Remove the pieces from the box to set up the race track. 
Step 2
Click the pieces together to create a race track. On the chair or around the table, nothing is too crazy!
Step 3 
Click the car on the track. Switch on the car and watch it speed along the race track!
SPECIFICATIONS
Variant:
46 pieces (1.1 meters), 1 car, 2 covers (excl. battery)

92 pieces (2.2 meters), 1 car, 2 covers (excl. battery)

138 pieces (3.3 meters), 1 car, 2 covers (excl. battery)

184 pieces (4.4 meters), 1 car, 2 covers (excl. battery)
100% SATISFACTION GUARANTEE
More than 870+ satisfied customers have already preceded you and we have been able to provide our  Car Adventure™ - Flexible Race Track. 
We stand behind our product 100%.

 

That's why we offer a '

 

money back guarantee

 

'
We offer the customer the option  to

 

return

 

 the product 

 60

 days

 

after receipt

We attach great importance to flawless customer service that  is available

 

24/7

 

 for all questions and/or complaints
Our products are BPA free ( BPA  is a chemical found in many plastic products, such as building materials, electronics, plastic bottles and toys) 
It is made of high quality;

Safe  material and watercolour;

Free from chemicals;

Provided with CE marking according to EN71 guidelines.
Note: This product contains small parts. Play under adult supervision. (> 4 years or older)